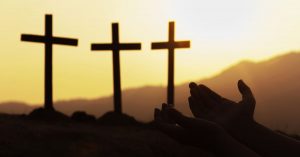 Lent is a time of stepping back and being thoughtful about deepening our relationship with God, mindful of what God has done for us, the sacrifice of God's Son, Jesus Christ, and the ways we fall short of what God asks of u. s.  At St. Matthew's we have many opportunities to step closer to God in relationship and service, reaching out for reconciliation and God's healing presence in our lives.
Sunday Services in Lent (March 1 through April 4) — Holy Eucharist at 8:00 and 10:30 a.m. Lenten Christian Education program will center around St. Matthew's outreach programs, with guest speakers from several area ministries to at-risk families and individuals.
Weekday services — Morning Prayer at 7:30 on Tuesdays and Thursdays; Healing Eucharist at 10:00 a.m. on Wednesdays.
Wednesday evenings — beginning March 4 — 5:30 p.m. Holy Eucharist, 6:00 p.m Soup Supper, and 6:30 p.m. Discussion on Spiritual Disciplines
Fridays — 7: 00 p.m. Stations of the Cross (church open at 6:30 p.m. for quiet meditation
Palm Sunday — Services at 8:00 and 10:30 with a Palm Procession prior to both services. Dramatic Gospel reading by the Youth at the 10:30 a.m. service.
Holy Week (March 6 – 11) — Maundy Thursday Holy Eucharist with hand-and foot-washing; Stripping of the Altar; Maundy Thursday Overnight Watch from 9:00 p.m. through 12 noon on Friday; Good Friday — Stations of the Cross 11:30 a.m. and 6:45 p.m. with Holy Eucharist at 12 noon and 7:30  p.m
Easter Sunday — Festive Holy Eucharist at 8:00 and 10:30 a.m. Flowering of the Cross by the congregation (especially children) at both services.
For a printable pdf of these events at St. Matthew's,  click here: Lent and Easter 2020 calendar 2 sided


Share this on your social network: