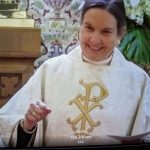 How long Lord, do we have to wait?
I am not good at waiting! If someone puts me on hold on the phone, I look around for something else to do. But in every day there are times when we must simply wait. When night comes, we can't rush the dawn – it simply is not in our power to do so. We can get up and turn on all kinds of electric lights, but we can not make the daylight come any sooner than God plans.
In this season of the Church year that we call Advent, we enter a season of waiting. Many of you are like me and you dislike waiting in line or waiting in traffic and you may even dislike waiting for dinner to cook. That is why I like to microwave everything! Sometimes we are so impatient that we try to figure out which grocery line is moving the fastest or which lane of slow traffic will get us there more quickly. But Advent is not like that. Waiting in Advent can't be rushed. Advent is always four weeks in length and no amount of hoping and praying will bring Christmas any sooner.
So here we are in the third week of waiting and perhaps we have already fallen into the chaos of the world rushing to buy presents and hurrying to get decorations up? As Christians, we are supposed to prepare for Christmas in a different way. We are invited to slow down, not speed up. We are invited to wait to light that beautiful green tree until Christmas actually arrives. We are encouraged to prayerfully seek out gifts for others which remind them of the love God has for us.
The primary reason for gift-giving at Christmas time is to remind us of God's great gift of love to each of us. Perhaps you can slow down enough to pray each day and to attend worship each week. Come and slow down for just a few minutes in the presence of God. Then you can go out into that busy world renewed and refreshed. The waiting of Advent is somewhat like the waiting of a couple for that new baby – it is the waiting of anticipation and it is the waiting of mystery and hope.
Light your Advent wreath candles (one each week, so we are up to three) and say a short prayer every day recognizing that each candle represents the Light of Christ coming closer and closer to our hearts and lives. May this season bless you with a sense of God's peace and may you find yourself ready to welcome the Christ Child this Christmas with an open heart.
So how long Lord do we have to wait? Just long enough, God tells us, so that our hearts once again become mindful of Christ's love and just long enough so that we become a hopeful people ready to light up the world for God.
God's peace, Mother Pat+


Share this on your social network: