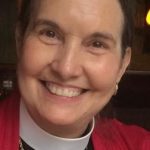 The Invitation
I think we all have immediate reactions to an invitation we may receive. Perhaps it is a dinner invitation or an invitation to go to a movie, or even an invitation as we recently received to attend a virtual ordination last month for Karen. Some invitations we are able to accept, and others we may have to decline. Some invitations evoke a sense of joy and surprise while others give us a feeling of concern or regret.
When we accept an invitation it is an opportunity to celebrate or to deepen a relationship by spending time in the company of another person. In scripture Jesus seemed to extend invitations all the time to people on the street, in the synagogue, and almost any place you can think of. It is interesting that Jesus does not seem to judge the response. Some people asked questions; others hesitated; and still others decided to decline the invitation; but Jesus simply invited people to be part of God's work. In John's gospel (Chapters 1-6) you will find at least five invitations that Jesus makes, and perhaps you can see yourself in some of those responses. Jesus accepted more than a few invitations himself, like the Cana wedding feast, dinner with new friends, and of course Jesus accepted the invitation to engage in the work God called him to do. Invitations, when accepted, invite us into relationship.
Epiphany is that season where we encounter the mystery and the wonder of Jesus' earthly life and ministry, and this is the season that we are invited to participate with God in the work of God's kingdom. Recently I read that Presiding Bishop, Michael Curry said, "We're all invited to throw ourselves into the arms of Jesus". Now that is quite an invitation! I imagine that for those of us introverts, the idea of throwing ourselves into the arms of Jesus might be more than we want. However, I do believe that God continually invites us into relationship, and each day we make a decision to join God in the work of ministry and service, or we find other invitations more compelling.
In your quiet time and in your prayers, listen and watch for the invitation to engage with God, using spiritual disciplines of prayer, study and worship to grow in God's love and grace.  May your life be filled with Godly invitations.  Mother Pat+


Share this on your social network: