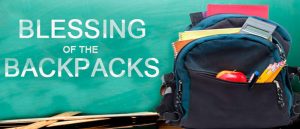 CALLING ALL STUDENTS, TEACHERS, AND SUPPORT PERSONS
THIS SUNDAY
August 1 Blessing the Backpacks
and
Commissioning & Blessing of Teachers & Formation Leaders
As school starts in the area, we would like to recognize all of you who work so hard to educate and care for the children and youth both here in St. Matthew's Sunday School & Youth programs, the preschool, and in public or private schools in the area.
If you are a SS teacher, preschool, classroom teacher or para-pro, bus driver, librarian, lunchroom worker, or serve in any capacity involved in teaching or caring for our children and youth in the community,
please plan to attend church this Sunday August 1
at the 8:00 or 10:45 a.m. service
for the blessing and commissioning of your coming year.
BLESSING OF THE BACKPACKS
All children and youth are encouraged to bring their school backpacks to church this Sunday August 1 to be blessed, and receive a backpack tag.
This is a very special day in the life of St. Matthew's–don't miss it!
(Masks & Social Distancing Strongly Encouraged)


Share this on your social network: